Tiger Cave Temple – The Best Free Attraction in Thailand
Tiger Cave Temple in Krabi is a must visit for anyone that likes adventure.
Tiger Cave Temple is the best free attraction in all of Thailand yet many people choose not to visit it.  Even those that are already in Krabi may skip it in favor of more beach time.  Certainly they are missing out on a terrific experience.  Tiger Cave Temple or Wat Tham Suea is a spectacular Buddhist temple and a must visit for anyone traveling to Krabi.  So what makes Tiger Cave Temple so special and different from all the other temples  in Thailand?   Keep reading to find out.
Tiger Cave Temple is relatively a new temple as it dates back to 1975.  Legend has it that a tiger once lived in one of the caves here.  It is only about 15 minutes away from Krabi town and about 30 minutes from Ao Nang.  It can be easily reached by Songthaew, taxi or by renting a scooter.  Although if you are going to rent a scooter be prepared that you will be riding on some busy highways in order to get to the temple.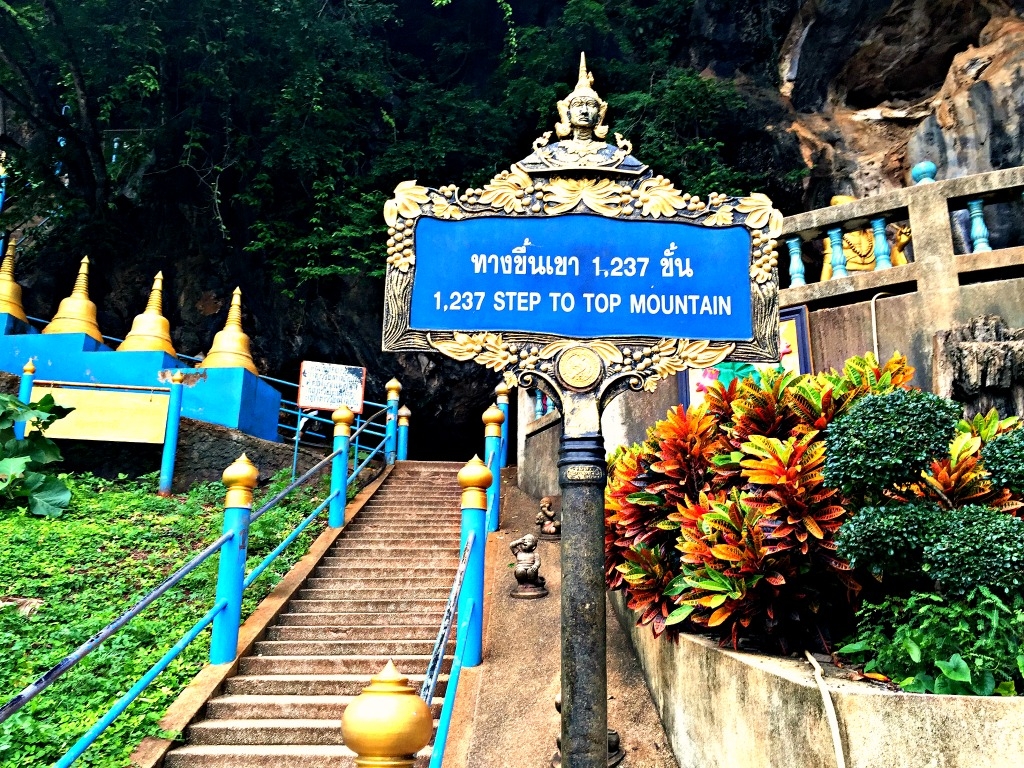 The main attraction of the temple is the 1237 stairs it takes to climb to the top of the mountain.  The climb up is no joke even if you are in great physical shape.  You may think to yourself, "What's the big deal, it doesn't sound that hard".  Well when you take into account the heat, humidity and the fact that some of the steps are twice the height of normal steps you got yourself a pretty difficult climb.  It may be difficult but most people can do it as long as you take breaks and drink lots of water.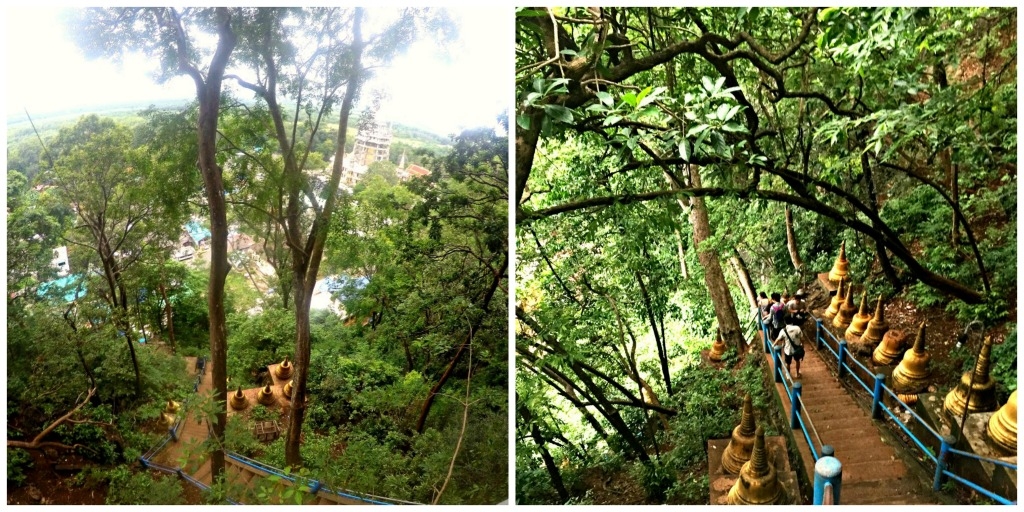 The temple is open from sunrise to sunset.  It is best to do the climb in the morning or late afternoon.  You should allow about 30 minutes for the climb with a few stops along the way. Make sure to bring at least one bottle of water.  You will need it.  There is water at the top if you run out.  I did this climb in June and started at 5:30pm (17:30).  About half way through the climb I was completely drenched in sweat.  Even in the evening the humidity was really bad.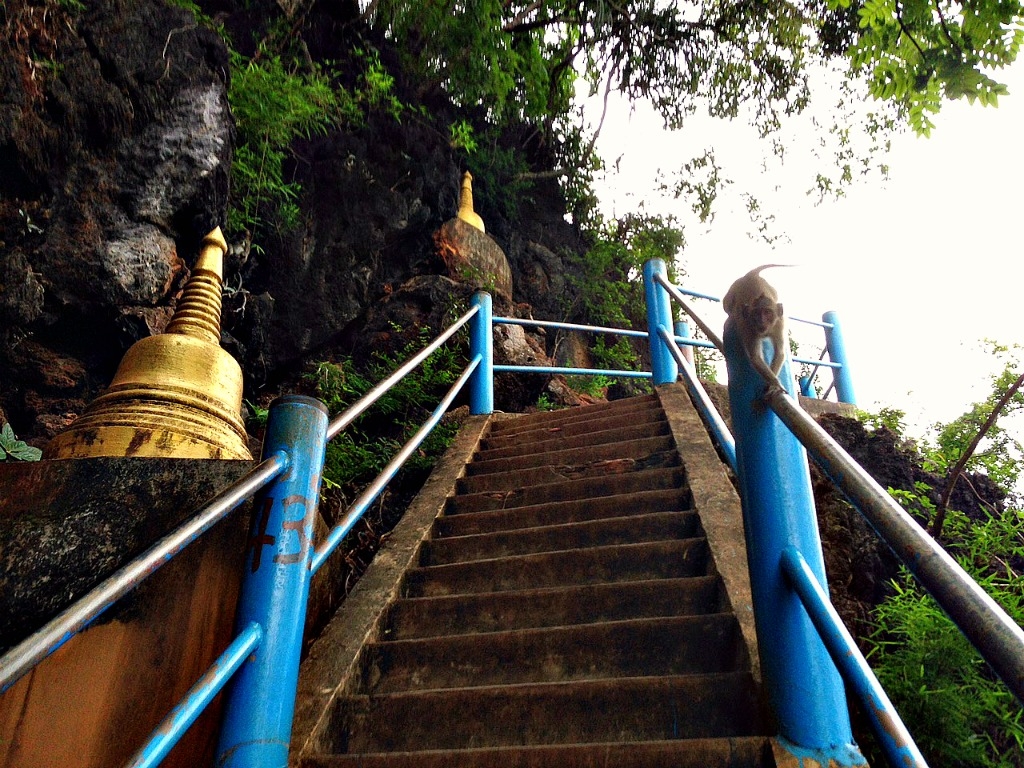 The stairs are numbered, as to give you encouragement that you are getting close.  ( It could also have a negative effect if you think there are too many to go.)  Along the way you will encounter many people coming down and giving you words of encouragement and telling you that the climb is totally worth it.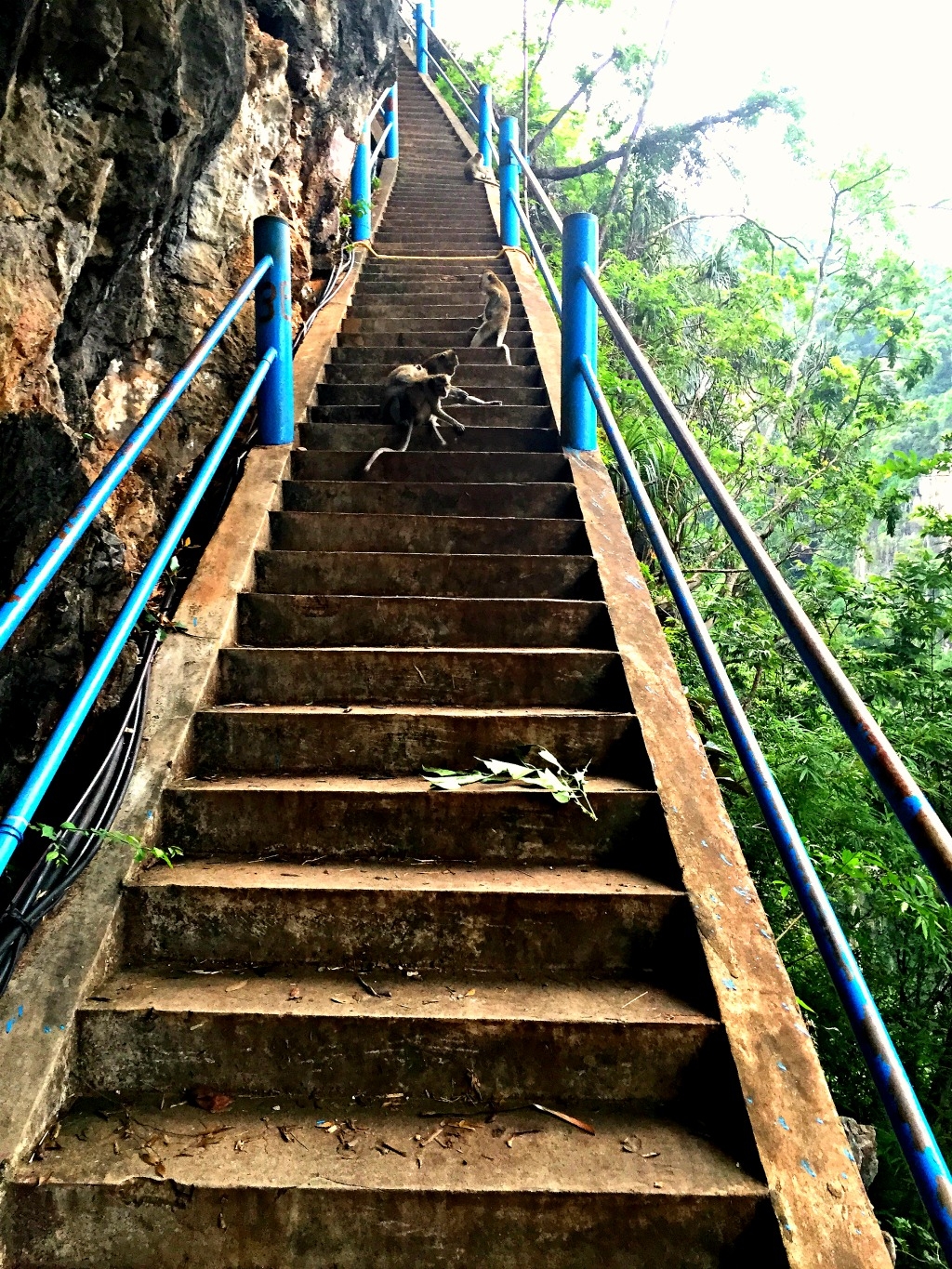 You will also encounter many monkeys.  These monkeys may look cute but are very unpredictable.  They have been known to steal things from people and get aggressive so it's probably best not to mess with them.  On the way up I encountered probably about 20 monkeys through out the climb.  The way down was a different story.
Soon enough you begin to see the light at the end of the tunnel and are rewarded with breathtaking views.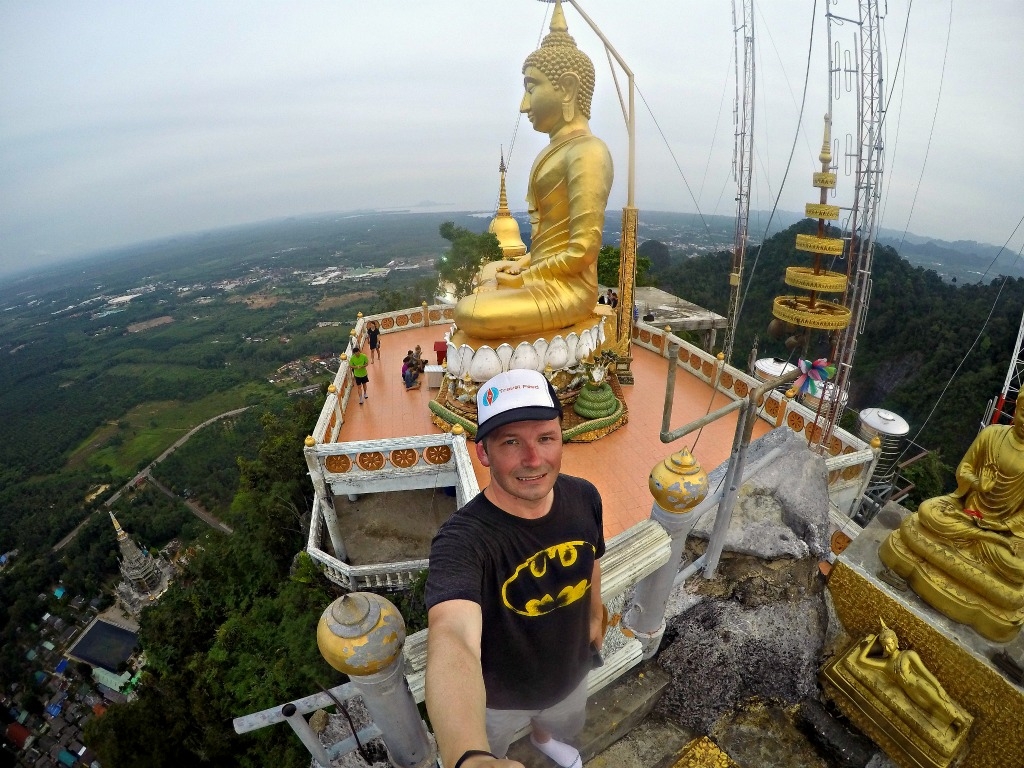 The views stretch for miles.  From here you can see Krabi Town, Krabi landscape, the sea and the karst mountains.  All the hard work has paid off and it was totally worth it.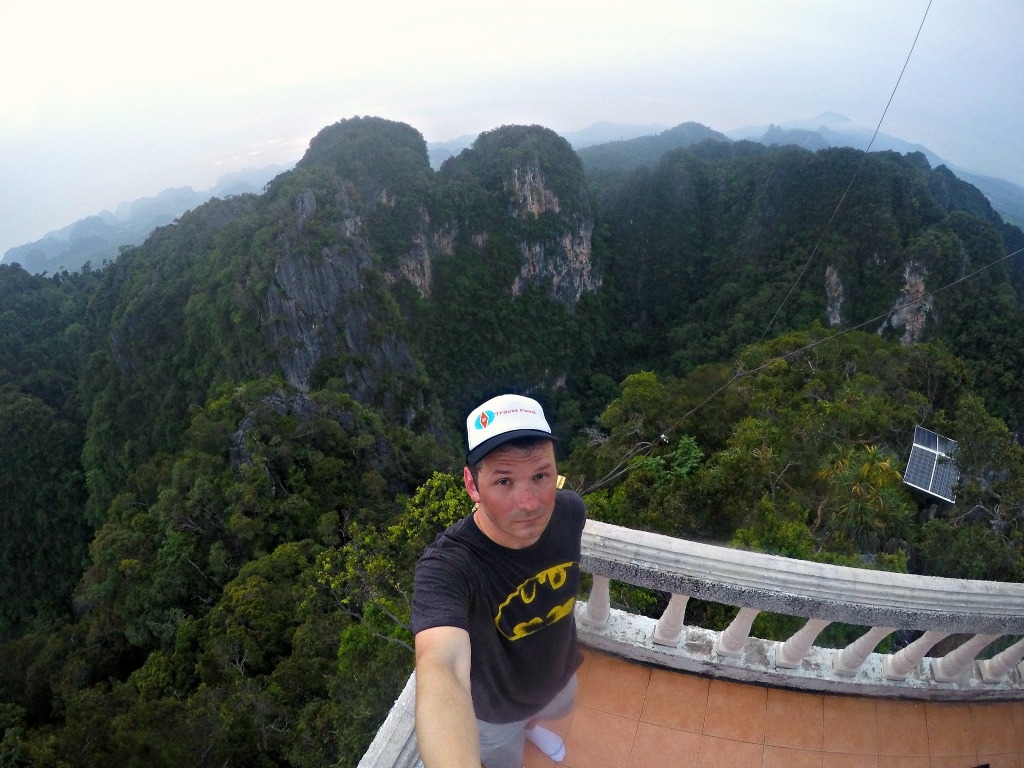 The top of the mountain is not crowded at all and very peaceful.  Many people choose not to make the trek all the way up and there are some that are afraid of the monkeys.
The Giant Golden Buddha and Chedi at the top of the Tiger Cave Temple in Thailand are simply stunning.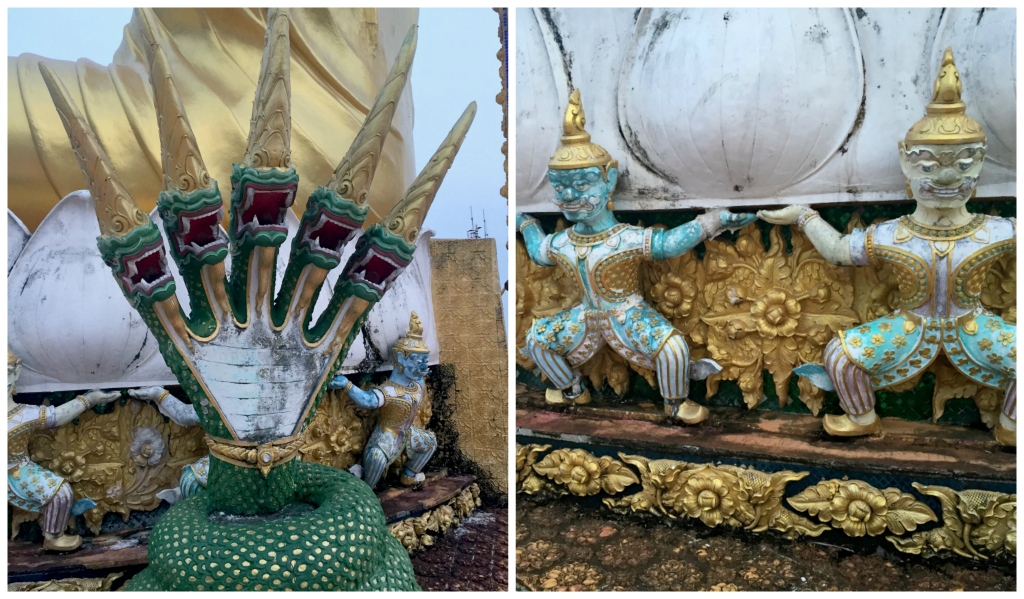 I have heard that the sunset from the top of the Tiger Cave Temple mountain is spectacular but unfortunately the day I went up was cloudy so no sunset.  Maybe next time.  You can spend as much time at the top as you want.   I spent about 45 minutes at the top taking in the sights and the views but it was now getting dark and time to head back down.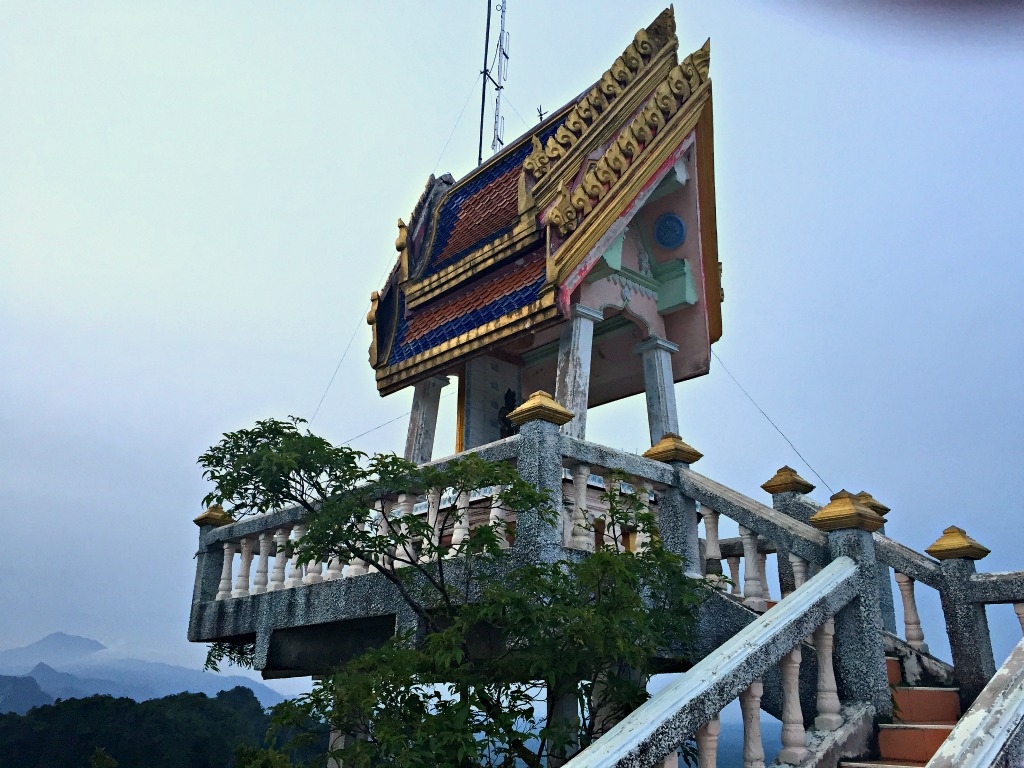 The walk down is easier  and quicker but your legs definitely feel like jello at this point.  When walking down I did not see any monkeys and began to wonder where did they go?  Did they all go to sleep? My question would soon be answered.  It seemed that all the monkeys from the mountain congregated in one place and waited for me to come down.
There must have been 50 monkeys in one place on the hand rails and stairs.  It was super freaky and felt like a scene from "Planet of the Apes".  The darkness did not help either.  I was walking very carefully trying not to step on any of their tails.  (Somehow I didn't) I imagine it would not be a pretty scene if I did.  One of the monkeys did grab on to my leg and held on for a couple steps.  Amazingly the monkeys remained pretty calm and let me pass.  Before you know it, I was all the way down the stairs.
Tiger Cave Temple was definitely an awesome adventure and I would highly recommended it to anyone.  It is one of those experiences that you will remember for a very long time.  Probably more so than lounging on the beach.
Rafal Kamysz
Have you visited the Tiger Cave Temple?  What did you think?  Planning a visit?  Let us know in the comments.
Comments
comments