World's Most Thrilling Hikes
Some hikes are quiet meanders in the forests, and those are okay for calm examination. However the treks that truly open your eyes are the thrill rides. The accompanying 16 world's most thrilling hikes take in perilous heights, erupting volcanoes, treacherous steps, and other hair-raising moments. They run from what are basically low-level rock ascensions to walks on narrow edges and they are all ensured to up your heart rate.
1. Besseggen Ridge, Jotunheimen National Park, Norway
Best for: Anyone who wants a thrill (and big views of Norway's most famous national park) without a truly dangerous hike
Distance: 14 miles one-way
This may be the most popular hike in Norway, calling to everyone from starry-eyed college-age backpackers to pudgy middle-age trekkers, but that's not to say it doesn't dish out some true excitement. It also serves up one of the most stunning views on the planet as it ascends and crosses the thin, rocky ridge between Jotunheimen National Park's big, milky green glacial-fed Gjende lake and high alpine Bessvatnet lake. "Jotunheimen" means "home of the giants" in Norwegian, and it's easy to imagine the great fierce Jotun of Norse mythology wrestling with Thor in this wild, glacial-scoured landscape-though the 30,000 people who hike it each year may keep the giants in hiding.
If you walk in the most popular direction, beginning at the charming Memurubu hut, the hike opens with a relaxing ferry boat cruise up Gjende before it starts to head up 1,200 feet onto the rocky ridge with steep drop-offs to either side, but the only true danger is stopping too often to snap photos. It tops out at 5,719 feet, racking up an impressive 3,500 verts along the way. The hike ends at the same place you caught the ferry, the Norwegian Mountain Touring Association's Gjendesheim Turisthytte, a 170-guest mountain lodge. There are ways to extend the trip, too: if you start at Gjendesheim and hike over the ridge to Memurubu, you can stay at the hut overnight and take the ferry back (or hike back over the ridge or along the lake).
Thrill Factor: It's a demanding eight-hour hike, so though it doesn't require technical skills, hikers do need to be in shape and be comfortable in the wild.
Take It Easy: There's a path along Gjende that doesn't require climbing the ridge. Take the ferry to Memurubu and then amble 6.2 miles back to Gjendesheim.
2. El Caminito del Rey (The King's Pathway) El Chorro, Spain
Best for: True daredevils; GoPro addicts
Distance: 2 miles
No list of thrill-ride hikes would be complete without including Spain's King's Pathway. The century-old, three-foot wide, decrepit stone walkway that's barely attached to a sheer cliff 300 feet over the Guadalhorce River has gained fame from a countless number of videos that have gone viral-it is the perfect gasp-and-groan video for helmet-cam footage. It's also truly risky: Left in bad shape after decades of neglect, the walkway has big gaps that force hikers to step over the void. It's nausea-inducing enough to travel where the walkway is intact or the few spots where the original handrail still exists. In the worst sections, the pathway is completely gone, requiring low-level rock climbing moves to get back to (semi) solid ground. "Better" spots offer rails of rebar jutting out from the cliff as footholds. There is a safety wire running along the path that can be clipped into to prevent a fall, making it a via ferrata, but the trip is still one of the most thrilling hikes.
The catwalk was not always so horrifying. It was originally built in 1905 as a means for hydroelectric workers to travel between Chorro Falls and Gaitanejo Falls. It received its name in 1921, when Spain's King Alfonso XIII made the walk to open the new Conde del Guadalhorce dam. Ten years later the king ended up fleeing the country and abdicating after the end of the bloody Spanish Civil War. His walkway, likewise, fell out of favor until now.
Thrill Factor: This path is so dangerous that it has been officially closed since 2000 after four people fell to their deaths on it. But since so many adventure-seekers have been drawn to it anyway and guides even take tourists along it, the Spanish government has sunk over $11 million into rebuilding El Camino del Rey to be safer and constructing a visitor center. It is scheduled to open in 2015. The upside of that work is that the renovated path will be far safer; the downside, it will not be nearly as scary.
Take It Easy: You can still take in the breathtaking views of El Chorro Gorge, without 300 feet of nothing under your feet, if you hike the 4.3-mile track to the top of the upper gorge.
3. Leukerbad Via Ferrata Leukerbad, Switzerland
Best for: Hikers who have tried a via ferrata before, bring the right equipment (and possibly a guide), and want to summit a peak on a via ferrata
Distance: 3,280 feet of elevation gain
Italy's Dolomites are the spiritual home of via ferrata, or iron roads, systems of vertiginous metal ladders, cables, and sometimes rock-climbing terrain that hikers can ascend while clipped into a safety wire. Many of these trails on cliff faces were originally created for use by Italian military forces during World War I. While many of the best via ferrata in Europe are still in the Dolomites, Switzerland's Leukerbad Via Ferrata is impressive. The route scales the massive face of the 9,648-foot Daubenhorn, lording over the sleepy resort town of Leukerbad, and is the longest via ferrata in Switzerland. It has all the feel of a technical aid climb, though hikers without climbing experience can pull it off.
The climb consists of a 1.28-mile hike along cliffs to the start of the via ferrata. Then things go vertical on what is known as the "small" via ferrata-two hours of ascending along the wires and exposed rock climaxing in a sheer, three-ladder climb up 250 vertical feet. Here the route takes a breather at the Obere Gemsfreiheit Point at 6,562 feet. (This is also a turnaround point for hikers who have had enough or just want a shorter route.) The "big" via ferrata continues for just over three hours to the summit from here, with exposed rock scrambling, climbing on metal rungs, and ascending full ladders. The whole trip takes eight hours, but feels like a lifetime suspended above the green meadows and rooftops of the toy town in the valley far below.
Thrill Factor: Big exposure, but it's perfectly safe if you know what you are doing. Don't even think about this hike if you have a fear of heights. It would be smart to start on a shorter, easier via ferrata first. Leukerbad is rated ED, or Extrêmement Difficile, on the French via ferrata rating system and K5-K6 in the German system (K1 is easiest; K5 signifies very difficult).
Take It Easy: If hanging off ladders while clipped to a thin metal wire is not your thing, simply make the 8.2-mile hike up to alpine Gemmi Pass, where the via ferrata begins, and over into Bernese Oberland using cable cars to get to and from your starting and ending points.
4. Dry Fork Coyote Gulch, Grand Staircase-Escalante National Monument, Utah
Best for: Slot canyon exploration and play for everyone from daring canyoneers to kids
Distance: About 3.5 miles round-trip
Welcome to nature's amusement park. A short hike down into the sandstone canyon walls of Dry Fork-located off the Hole-in-the-Rock road where Mormon pioneers first found a route through this severe, distant corner of the Colorado Plateau-is all it takes to reach some of the most intriguing and easiest to enjoy slot canyons in Utah. Dry Gulch is a wonder in itself. Its rock walls formed from ancient sand dunes long buried and turned to stone before tectonic uplift sent them back aboveground to be carved out by eons of flash flood erosion and wind scouring. But it's the side slots just a short way upstream that make this place such a draw for visitors to the Grand Staircase-Escalante, and they are where the real fun begins.
The first of these side slots is called Peek-a-Boo because it consists of a series of big round windows and arches in the Navajo sandstone, with potholes, often filled deep with water, lurking in the floor below. It requires a bit of a scramble up carved stone steps to reach and some care to navigate, but it's basically a fun romp. The next slot up Dry Gulch, Spooky, is the real standout. It's a perfect, narrow crack that's consistently 30 feet deep and no wider than 18 inches across for over a half a mile. It's so tight some adults may not fit (and in many spots it pinches down to less than ten inches across, so they will definitely have to suck in their bellies and turn sideways)-but children will find it easier to move up the wafer-thin slot faster than their parents. The last and least visited slot, Brimstone, is dark and gloomy, even deeper than Spooky, and narrowing so much at points that hikers need to make their way far up above the sandy floor.
Thrill Factor: It's an ideal natural playground for anyone except extremely claustrophobic and larger-than-average people. Brimstone is the only truly dangerous one of the slots-local legend has it that one hiker got wedged in and stuck for days. But as long as you are careful and cognizant of the dangers of hiking in the desert (carry more water than you think you need), Spooky is safe enough for children (though they may need help up some small obstacles). Always be concerned about flash floods in slot canyons (and remember the water comes from storms upstream of the slot).
Take It Easy: If tight squeezes are not your thing, you can simply hike down the beautiful (and wide) Dry Fork Coyote Gulch canyon slot just downstream of the playground.
5. Huayna Picchu, Machu Picchu, Peru – Most thrilling hikes
Best for: Hikers who want a bit more action in their archaeological experience
Distance: 1,181 vertical feet
The hike to Machu Picchu, the Inca ruins high in Peru's Andes that were abandoned 500 years ago, has been written up and lauded in countless best hike and travel features. And the destination is, no-surprise, filled with tourists seeking enlightenment on high. For good reason: The UNESCO World Heritage site is one of the most significant archaeological and still sacred sites on the planet. It's also perched in a spectacular spot on what feels like the backbone of the world. The great Chilean poet Pablo Neruda wrote of it: "In you, like two parallel lines, / the cradle of the lightning-bolt and man / rocked together in a thorny wind." Who wouldn't want to go?
Despite its lofty reputation, the actual Inca Trail hike to Machu Picchu is not all that thrilling, depending on how you decide to do it, and many hop on board a guided tour provided by anyone from REI to local operations (many more arrive via train). You may wheeze from the elevation and steep climbs and have to navigate thousands of stone steps, but it's not that scary. Huayna Picchu is. The 8,924-foot, iconic pyramid peak juts up over 1,000 feet above Machu Picchu and requires a sketchy scramble that includes exposed ledges, stepping rocks sticking out of the cliff with only the abyss below, cable handholds, and slippery stone staircases. But it is worth it for the view out above the ruins and the surrounding Andes. The ruins at the top are thought to be those of Machu Picchu's high priest, who would greet the sun from this very spot.
Thrill Factor: Huayna Picchu, also spelled Wayna Picchu, is steep with serious or deadly consequences if you fall in the wrong spot. Luckily, only 400 people are allowed to climb it each day, cutting down on the congestion a bit. That also means that quite a few people do successfully climb it, so it's more fun than real danger.
Take It Easy: Avoiding Huayna Picchu and simply taking one of the various routes to Machu Picchu is enough adventure for most. Try the lesser known Ancascocha Trail
6. Chadar Trek, Zanskar River Valley, India
Best for: Those who want to trek the Himalaya in winter
Distance: 45.4 miles round-trip
When winter takes hold of the distant Ladakh, or "Land of High Passes," region of India in the Himalaya, there's only one way to travel from the high, lonesome villages of the Zanskar Valley to the region's capital city of Leh-walking down a deep, dark gorge on the frozen ice of the Zanskar River itself. That's the gist of this extreme trek ("chadar" means "the frozen white blanket" in the local dialect), for which tour companies offer trips of nine days to three weeks to travel upriver to the Buddhist monastery of Karsha deep in the valley, and back. In most places, that chadar is solid, though a frozen river is a moody thing so at others it shifts or even breaks open into frigid, fast water, requiring arduous bypasses on snow and slippery rock. Temperatures average below freezing and can drop as low as minus 30º F at night. Along the way, trekkers sleep in caves, just as the local porters who have carried down trading goods (historically butter, which needed to be moved in the cold) and supplies for centuries do. It's a committing trip-there's nowhere to go up above the gorge, since paths and roads are shut down by the winter.
Despite the real danger and bone-chilling temperatures-the trek itself starts in a village called Chilling-this hike into a headwaters of the mighty Indus River offers up some huge rewards. There's the ever shifting beauty of the chadar underfoot itself, as well as the visceral silence of these deep Himalayan gorges in winter. There's frozen waterfalls. There's the hardy villages of Zanskar and the chance to walk alongside their people, who have been making this trip for generations (and maybe a pang of guilt, as they walk past in traditional apparel and you struggle in the latest high-tech fabrics). Put that all together and navigating the ice is worth the risk.
Thrill Factor: Plain and simple, the Chadar Trek is a winter expedition in the Himalaya. The river ice can shift and break and present other hazards, but the biggest danger is the cold itself. That said, the winter is a time when few visit the world's highest mountains and there's something elementally basic about spending days trekking up an ever changing frozen river with no other way in or out.
Take It Easy: You don't have to trek the Ladakh region and the Zanskar Valley in winter. A three-week trek across ten mountain passes and open, high country from the monastery at Lamayuru to the village of Darcha in warmer seasons has its own challenges but doesn't present the frozen dangers of the chadar.
7. Aonach Eagach Ridge, Glen Coe, Scotland
Best for: Ridge walkers who want a huge dose of exposure without roping up
Distance: 5.75 miles
There are perilous ridge walks … and then there's the knife-edge of Aonach Eagach. Running like a dragon's backbone along the A82 highway just north of Glen Coe, the Aonach Eagach ridge rules over all the rugged, sketchy precipices of this heart of the Scottish Highlands. The hike, which climbs 3,600 feet, is only truly frightening for about two miles, during which it drops to the abyss on either side and clambers over two munros (the term for Scottish peaks over 3,000 feet), 3,127-foot Meall Dearg and 3,173-foot Sgorr nam Fiannaidh.
In between, the wild walk shimmies up chimneys, crawls down ledges, plummets up and over vertical towers, and navigates several other "dodgy" spots, as the locals describe them. No rope required, but don't make a mistake. At some point, perhaps when you are off the dodgy sections, you may even notice the wide views of Glen Coe's high munros all around, including the tallest peak in the British Isles, 4,409-foot Ben Nevis. When you reach the bottom near Glencoe village, make like the locals and head to the pub or to taste local single malts, which will help both quell any lingering nerves and add to your bravado as you recount your tale of conquering Aonach Eagach to anyone who will listen. There are many attractions in this area of the country which is why bringing your car along is advisable to help make the most of the whole experience. A friend recently leased a car from Intelligent Car Leasing, just in time for her long road trip up to the Highlands.
Thrill Factor: The hike should be attempted only by people who are comfortable scrambling on exposed terrain. It's not hard, but you don't want to make a mistake. Some people do rope up to do it-though that can make the traverse painfully slow and requires technical climbing knowledge. In winter, the difficulty level goes up to a Scottish Winter Grade II climb, and ice axe and crampons (and most likely a rope) are mandatory.
Take It Easy: You have to love the spirit of a hike that's so scary that something called the Devil's Staircase is the easier option. But, indeed this six-mile hike ascends to big vistas of Glen Coe-without the heart-stopping exposure.
8. Black Hole of White Canyon, Hanksville, Utah
Best for: Swimmers
Distance: 5 miles
The Black Hole is the flume of our thrill-ride hikes-a slot canyon that must be swum. It's deep and dark and filled with cold water year-round, requiring a wetsuit even when temperatures are broiling far above. After a short hike, you plunge into the muddy stream and swim down (many spots are wadeable depending on the season) for two miles, peering up at the sheer sandstone walls towering hundreds of feet above. You can also check out the markers of the raw power of the Colorado Plateau's flash floods in the canyon: Look up and you will see dead trees wedged in the slot as far as 50 feet above you, where torrential water once carried them. At times that debris has blocked the canyon, sometimes requiring ropes and a lot of forethought to navigate precariously piled logjams.
Those floods are an ever present danger in this peaceful spot-in the 1990s a teenage girl was swept to her death down here. But keep an eye on the weather, and you can simply bob downstream, relax, and enjoy the craftsmanship of the rushing water that carved out this enchanted canyon. Some canyoneers even bring a little inflatable ducky children's pool toy along to use as a kickboard heading downstream.
Thrill Factor: You must be able and willing to swim and wear a wetsuit even in the summer (a short-sleeve one will work when it's full summer). There are no real technical obstacles to navigate in the canyon, but it's not a bad idea to have at least a small rope in case you don't feel comfortable downclimbing. Also, floods can change things-in 2003, they created new technical obstacles that have since shifted away. Once you are in, you are fully committed-there's no escape route-so analyze weather reports before you attempt it and be aware that storms far upstream cause flash floods.
Take It Easy: If you want your first taste of Utah slot canyons, try the nine-mile loop up and down Little Wild Horse and Bell Canyons in the San Rafael Swell, not too far from White Canyon. They offer up the real slot experience with no technical obstacles or swims.
9. Búri Cave, Thorlákshöfn, Iceland
Best for: Hikers who like a tight squeeze and experiencing the underworld
Distance: 1.3 miles round-trip, plus hike to cave
Welcome to our "Tunnel of Love" hike. While there are hundreds of thrilling, frightening, and wondrous lava caves in the lava fields of this active volcanic island, Búri is one of the most eerily beautiful, as well as one of the latest to be discovered. It was only first explored in 2005 and was soon heralded as one of Iceland's most remarkable lava caves. But it's not for everyone. To reach it requires a short thrilling hike across the Leitahraun lava fields, the remnants of lava that flowed and cooled from the Leiti volcano all the way to the sea in some spots. Lava tubes formed here about 5,000 years ago when parts of that magma cooled faster than others, forming the cave walls, while the hot lava flowed through, forming the long, smooth caves themselves. Leitahraun is a Swiss cheese of these tubes, including the 4,462-foot-long Raufarholshellir tube and cathedral-like Arnarker cave.
Named after the first of the Aesir gods who is said to have been born when a primordial giant's cow licked the salty ice that existed before the Earth, Búri is covered in ice for its first section, making it feel like the mythical cow's salt lick, and filled with odd, dripping sculptures that shimmer phantasmagorically in the light of headlamps. After the ice, it runs through a long, 30-foot-high, 30-foot-wide tube of lava rock that feels like an abandoned subway tunnel, before ending a 55-foot-high lava pit at the end. Emerging again into the sunlight feels like being reborn.
Thrill Factor: Don't go if you are afraid of the dark or claustrophobic. The tunnel is not necessarily dangerous but anyone exploring it should have caving experience, a light (and a backup light), and a helmet. It's best to go on a guided trip, many of which pick up clients directly at their hotels in Reykjavik.
Take It Easy: The big, formation-filled Arnarker Lava Cave is also located in the Leitahraun lava fields and holds some natural ice sculptures near the end of winter, but it is simply accessed by a ladder, making it easier to explore.
10. Huntington Ravine, Mount Washington, New Hampshire
Best for: Peakbaggers; people who want to take the difficult way to the top of New England's most fabled peak
Distance: 2.1 miles one-way (8.2-mile round-trip loop to the summit)
Presiding over the White Mountains, New Hampshire's Mount Washington is one popular peak, but very few of those who hike it have the guts to head up the Huntington Ravine Trail. It's short, but near vertical, shooting up more than 2,000 vertical feet in just two miles, rambling above treeline into a boulder field, and then beginning to scale a series of sheer granite ledges and lichen-covered blocks, leaving travelers exposed to the mountain's notoriously unforgiving elements. That said, it's the most thrilling way to the top and offers up a little quiet between the gasps. There are even more difficult ways to ascend here, too, with technical rock climbs tracing up Huntington's steeper faces and one of New Hampshire's classic ice climbs forming here, in Pinnacle Gully, in the winter.
The summit itself is impressive (at 6,288 feet, it's the highest point in New England), but a tad anti-climactic since there's a parking lot and hordes of selfie-snapping folks who simply drove up instead of clinging to rock faces, but it also means if you don't live near New Hampshire you could either take a road trip from your state and use the car park on site, or use services such as you can find on websites like https://www.carsrelo.com/ and similar to have your car delivered to your holiday accommodation in New Hampshire and travel from there. Embrace it, and order a warm bowl of chili in the visitor center. Then enjoy the view out over the vast swath of the Presidential Range and much of the state below you. Like all climbs, the descent is the true tricky part (in 2013, a hiker slipped off the trail and fell 200 feet, requiring a life flight out), so it makes sense to turn it into a loop and head down the Tuckerman Ravine/Lion Head route.
Thrill Factor: Huntington is rated Class 3, just below needing to rope up, but you will need to use your hands. It should be attempted only by hikers comfortable with scrambling and exposure. Though hikers have taken catastrophic falls here, the real danger on Mount Washington is the weather, which is always rapidly changing. The summit has clocked up some of the highest wind speeds in recorded history (including 231 miles an hour in 1934) and the majority of the more than 135 fatalities here have been due to hypothermia.
Take It Easy: The standard 4.1-mile Tuckerman Ravine/Lion Head hike up Mount Washington may not induce the same type of nausea as Huntington, but it is still a serious trip up 4,250 feet into exposed alpine with all the dangers of thunderstorms and unpredictable weather.
11. Mount Huashan, Huashan National Park, China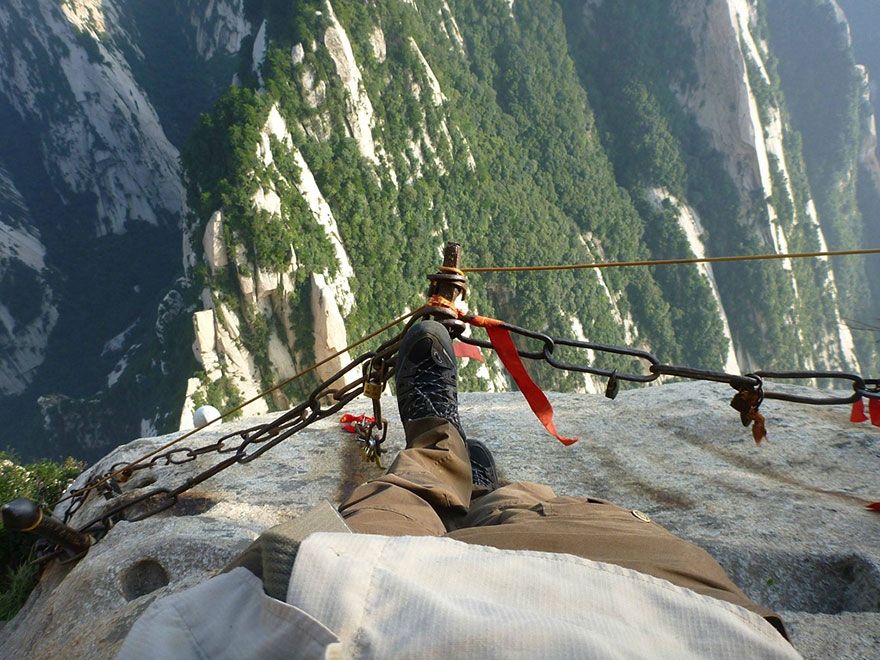 Best for: Pilgrims and daredevils
Distance: 7.5 miles from the gate to the top of South Peak
The path along rickety planks hanging out over the void on China's Mount Huashan have become a viral video sensation, showing up on "Craziest Hikes" lists everywhere. But that moniker is a bit of a misconception. The perilous, die-if-you-fall hike that looks like it was built by Spanky and the Little Rascals is just one small path on the massive Huashan, which is the westernmost of China's Five Great Mountains (each of which is named for the cardinal directions and a center peak), ancient imperial pilgrimage sites sacred to Taoists and still drawing spiritual travelers and tourists to the temples perched on them. Huashan is not a single summit but a complex of five major peaks, the highest of which is the 7,087-foot South Peak. The Chang Kong Zhan Dao (or Sky Plank Road) is the boldest way access to the South Peak (which itself consists of three subpeaks). It's a loony, fun ride of ladders, foot-wide wooden boards, cables, and steps hacked into the cliff-all hanging in the sky. You can rent via ferrata-type gear to protect yourself as you navigate it.
Ascending Huashan is a walk into the spiritual history of the mountain and China itself. For millennia-before the cable cars and hordes of tourists who swarm here now along many different paths-the way up Huashan was supposed to be difficult, testing the pilgrim who wished to find the way (or the Tao). Each of the granitic peaks can be accessed by a different hike (and two of them by cable car) or by a new loop trail at the top. Now, just because the Chang Kong Zhan Dao is not necessary to get to the top of all the summits doesn't mean that the other ways up are cozy. The hikes often require ridiculously steep stairs (some of which have been chained off) and holding on to chain railings, on which you may notice hundred of locks attached. These are charms left by couples and families as wishes for love and good luck.
Thrill Factor: The Chang Kong Zhan Dao is truly one of the world's scariest hikes, even with the sufficient mountain climbing gear and safety gear. The rest of the mountain is accessed by thousands of tourists (a record 47,000 visited the site in one day in 2013) in varying states of fitness, so you should be able to reach the top even if you don't want to scare yourself. As of 2014, the Chinese government has also opened a new trail on the top of the peak to make it easier to visit all the peaks and just implemented an $8.3 million-command center so it can monitor the trails through video cameras and keep them from becoming over-congested.
Take It Easy: Many visitors hike to the top of the East Peak in the dark to catch the sunrise. It's not easy but nowhere near as crazy as the Chang Kong Zhan Dao. And of course, the easiest way to the top is to ride the cable car to the North Peak (Yuntai Feng or Cloud Terrace Peak) or, as of 2013, West Peak (Lian Hua Feng or Lotus Peak), from which you can access trails to explore the others, if you wish.
12. Low's Peak Via Ferrata, Kinabalu National Park, Malaysia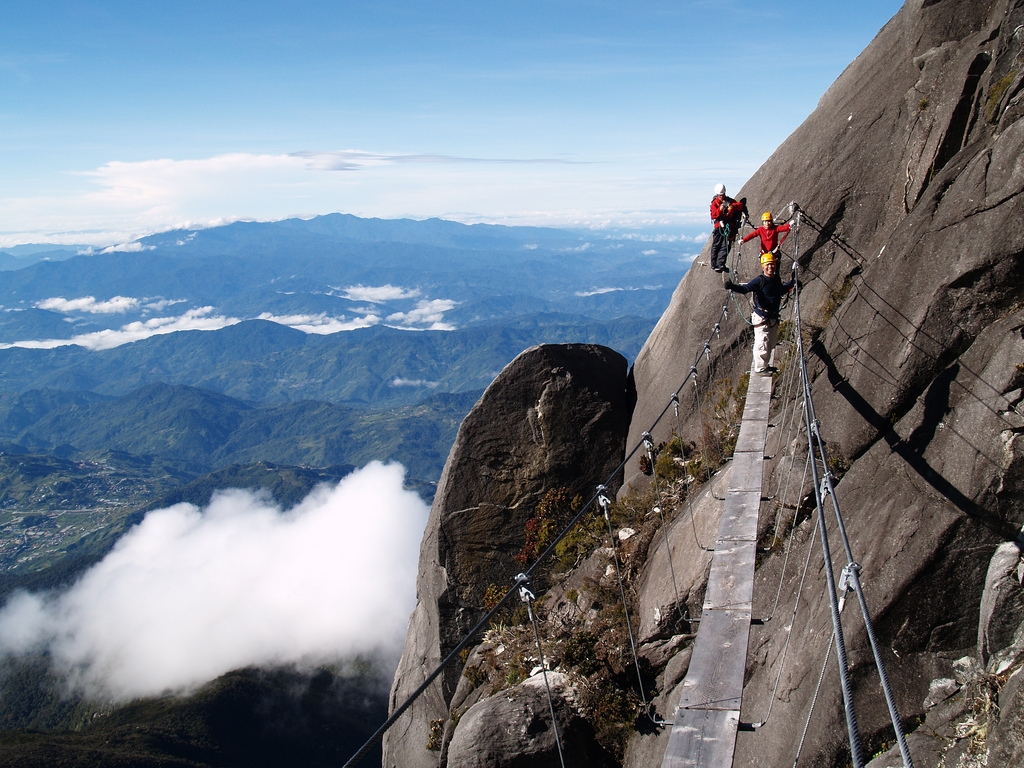 photo: Travelmate Holidays Sdn. Bhd
Best for: The shortest way to the top of Malaysia's highest peak
Distance: 1,198 vertical feet
Jutting out of the surrounding Borneo rain forest, 13,435-foot Mount Kinabalu (or Low's Peak) is not just the highest point in Malaysia, it also ranks number 20 on the list of mountains with the most prominence-it rises to that height straight from sea level, a similar prominence to higher peaks including Mount Rainier and K2. The granitic uplift is also a rare treat, providing an alpine environment close to the Equator, and the alpine meadows on the high peak support one of the highest concentrations of endemic plant life on the planet, including the world's highest concentration of wild orchids.
The hike up this monster is grueling no matter how you try it, but the most fun way to the top is on what the park bills as the highest via ferrata in the world. The route is a true fun ride-it heads straight up sheer cliffs, crosses swaying suspension bridges, and requires nerve to climb hand over hand on metal rungs in the rock face with nothing but open air all around.
Thrill Factor: Though it dishes out a ton of gripping moments with high exposure, this is not a particularly difficult or inherently dangerous via ferrata. It is rated AD, Assez Difficile or fairly difficult, on the French via ferrata rating system and 3 on the Fletcher/Smith system. Mountain Torq, the company that runs tours on the via ferrata, guides the trip and requires participants to be age 17 or over. The elevation gain from sea level can be rough, too. Most hikers take two days to scale the peak.
Take It Easy: You do not have to take the via ferrata to summit Mount Kinabalu. Both the Timpohon (5 miles round-trip) and Mesilau (7.6 miles round-trip) trails will take you on tours to the lodge at Laban Rata and 10,735 feet. From here, the intrepid can hike the standard Summit Trail, a difficult 3.6-mile, 2,625-vertical-foot round trip that does require navigating steep ledges and staircases. There is also an easier version of the via ferrata, called the Walk the Torq, rated PD, Peu Difficile or "just a bit" difficult, on the French system, that also runs to the summit. All hikes and via ferrata ascents require a guide.
13. Crypt Lake Trail, Waterton Lakes National Park, Alberta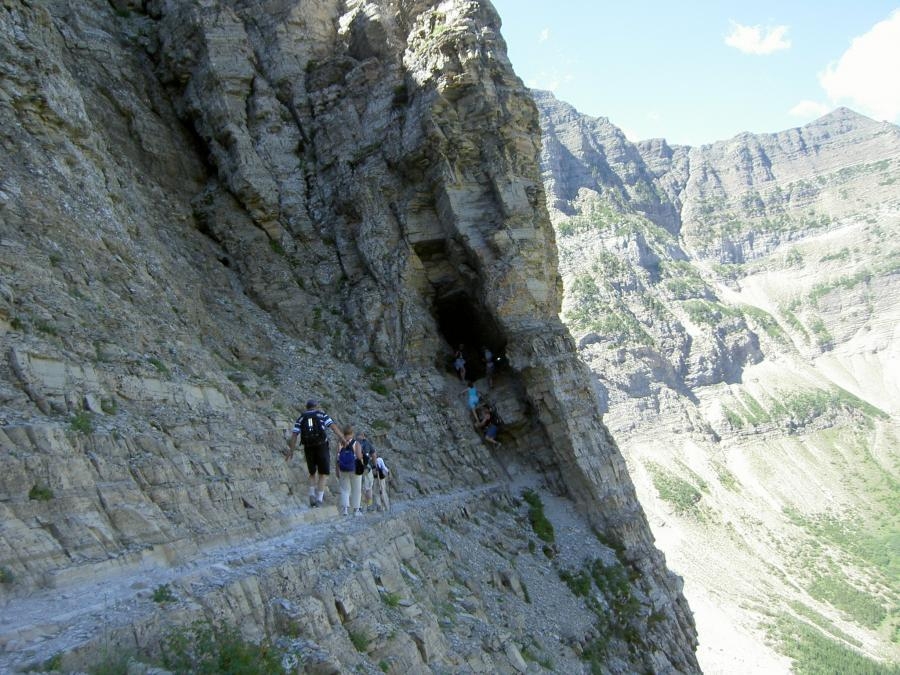 photo: Pixdaus
Best for: Hikers who want an adrenaline rush and love waterfalls
Distance: 10.8 miles round trip
Don't let the macabre name scare you off-though you may very well get a chill up your spine as you cling and crawl to this isolated spot high in the Canadian Rockies. This one, relatively short hike packs in an expedition's worth of adventure: a ferry ride, scrambling, epic waterfalls, exposure, a tunnel, and a pristine alpine lake as the payoff. You will also be hiking in a no-man's-land of sorts, or perhaps an every-person's land: Canada's Waterton Lakes National Park, on the southern border of Alberta, and the United States' Glacier National Park, on Montana's northern frontier, make up the larger, 1,720-square-mile Waterton-Glacier International Peace Park, created by proponents on both sides of the border in 1932. The two governments work to manage the resources of both parks together (since the biotic community could care less about political divisions) and the Peace Park is a UNESCO World Heritage site. This could be the perfect destination for people setting off in an RV from Seattle. You can click on this link if this is of interest to you.
A pleasant, 15-minute boat ride across Waterton Lake is required to reach the trailhead, which gives it a unique, isolated feel. However, the true cut-off-from-the-world highlight of the hike, which gains 2,300 vertical feet over 5.4 miles, is a 100-foot, hands-and-knees crawl the trail takes through a natural tunnel. Along the way, you will also have to balance along a narrow ledge (the park has affixed a cable handrail if you need it) and scurry up a metal ladder via ferrata style. When you do have time to look around, take in the beauty of the park's waterfalls, long elegant cascades tumbling down the sedimentary rock walls of the sheer peaks. The hike passes by four of them, the highlight of which is Crypt Falls, dropping close to 600 feet straight down from the hanging valley that holds the lake.
Thrill Factor: Most hikers can do the trail without a problem, despite the exposure. The worst sections are protected with a steel cable handhold. It is committing and exposed, though, so don't try it if you suffer from vertigo and be aware of changing weather.
Take It Easy: If you want a steep Waterton hike with none of the thrills and chills of Crypt, try the 6.5-mile round-trip jaunt to the stunning alpine cirque and turquoise waters of Wall Lake.
14. Pacaya Volcano National Park, Antigua, Guatemala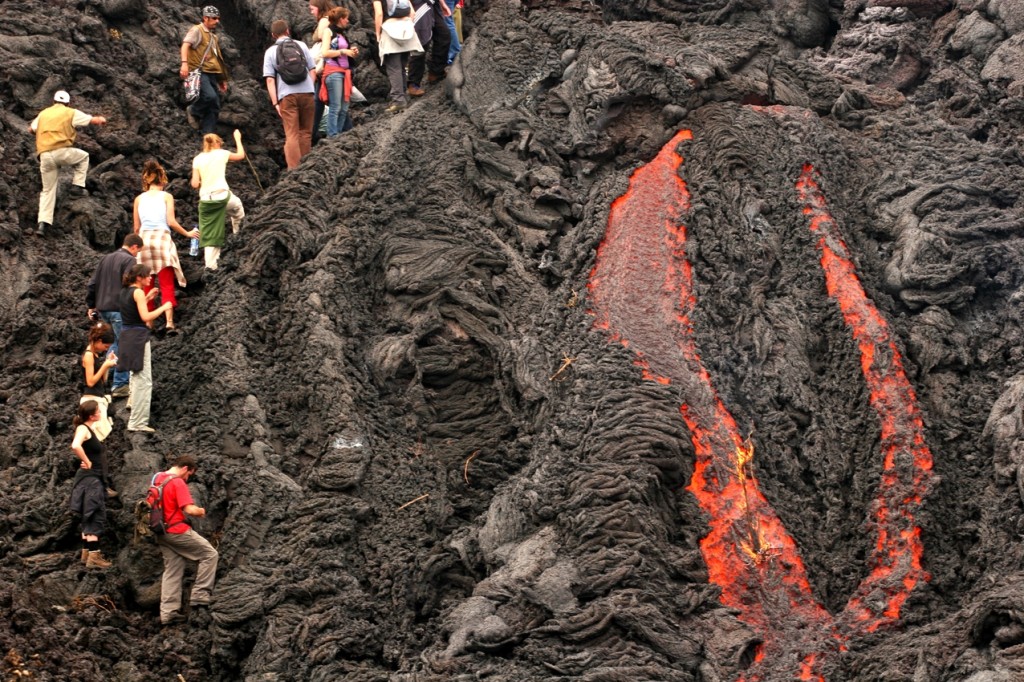 photo: Pixgood
Best for: Hikers who want to feel the heat of an active volcano
Distance: 3.2 miles round-trip
Looming in the skyline just 20 miles from the metropolis of Guatemala City, 8,373-foot Pacaya is one consistently moody volcano (it's technically a complex volcano, a caldera with multiple vents within its summit crater circumference). It has been active for at least the last 23,000 years, consistently brooding with steam, spitting out lava in pyrotechnic strombolian eruptions, and occasionally bursting out in more major events. The most recent of these big blasts have sent lava rivers rolling down the sides of the mountain in 2006 and covered the capital city in ash in 2010. And in early 2014 Pacaya started to get ornery again-exploding in ash and gas plumes and belching lava bombs and rocks while new craters flowed with lava.
So how about hiking up to get up close and personal with this beast? It's not as dangerous as you might think, though of course your safety is not guaranteed when tempting the moods of a volcano. Several tour operators run trips up into the caldera, and some even let you camp out overnight, where you can perhaps watch fiery strombolian eruptions from your tent window and roast marshmallows over fumaroles or hot lava. It's a quick and easy hike, but steep and at elevation so you may breathe heavy on the way up. You'll certainly exhale once you get there and see rivers of molten magma at your feet.
Thrill Factor: The trail up is not necessarily scary, but you are playing around on an active volcano that last had a major eruption in 2013 and had a small paroxysm, or sudden eruption, in January 2014, so be aware of current volcanic monitoring (you can check on updates here) and be very careful inside the crater, especially around the hot spots and fumaroles. The payoff is you get to look at the workings inside an active crater, which makes it one of the most thrilling hikes.
Take It Easy: You won't have to worry about the fiery moods of Ma Nature, but you will appreciate the mandatory police escort (to protect from robberies) to the top of Cerro de la Cruz, the hill of the cross that overlooks the city of Antigua.
15. North Drakensberg Traverse, South Africa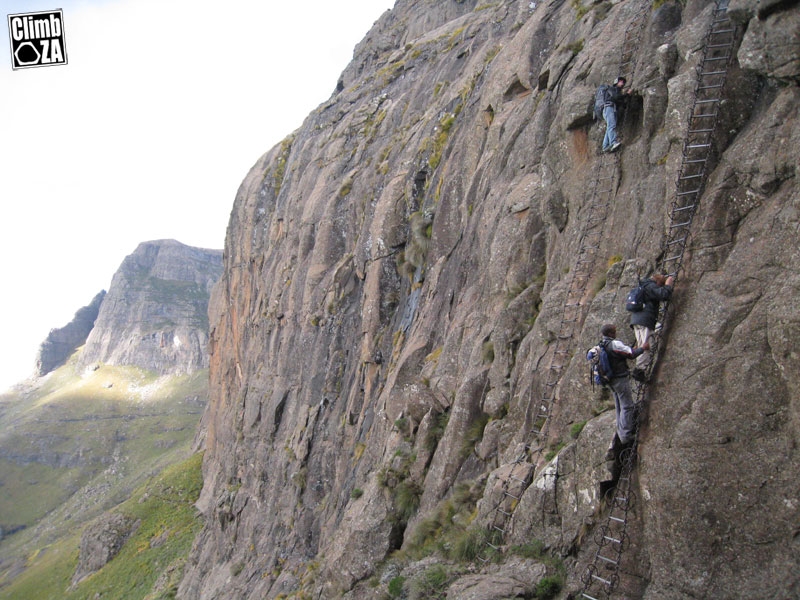 Best For: This is a big, long backcountry hike with no true trail that requires both outdoor skills and some familiarity with travel in Africa. Many travelers here book guides.
Round-Trip: 40 miles, from Mont-aux-Sources to Cathedral Peak
The Zulus call these peaks uKhahlamba, "barrier of spears." A vertiginous escarpment of volcanic basalt bursting from ancient sedimentary rocks, the Drakensberg is the highest mountain range in South Africa, crowned by the Drakensberg Amphitheater, a three-mile-long, up-to-3,280-foot-high wall of rock. The range forms the border between South Africa and eastern Lesotho and the uKhalhlamba/Drakensberg Park is protected by UNESCO as a World Heritage site, as well as by various local designations.
A trek across this epic landscape begins by ascending chain ladders to reach the top of this barrier and the plateau of Mount-aux-Sources, where the Tugela River plunges 3,110 feet off the top in a series of five cascades that make for the second highest waterfall in the world. From here, the trek crosses the high plateau-broken by rock formations, views out across the cliffs, and the huts of Sotho herdsman-before it works its way down past more waterfalls and river crossings before meeting up with the welcome civilization of the Cathedral Peak Hotel.
The Drakensberg is also filled with caves. Some, like the aptly named Rat Hole Cave, are claustrophobic. Others are massive, like the infamous Cannibal Cave, which sheltered San who were persecuted by Zulus and white settlers. They left behind an artistic legacy of cave paintings that illustrates their connection with these unique mountains and makes the Drakensberg one of the most important archaeological sites on the continent. Emerge from one of the caves and look out over the land and you will feel the true timelessness of this place.
When to Go: Late summer and fall (March to May)
Shortcuts: The 12-mile Mont-aux-Sources, which requires clambering on chain ladders, is the first section of the full trek and a worthy day trip. The long day hike to Tugela Falls covers 13 miles to reach the world's second highest waterfall. Cathedral Peak can be hiked and scrambled on a six-mile jaunt from the Cathedral Peak Hotel.
Insider Tip: The most popular campsites can be targets for petty crime, so set up tent a bit off the beaten path or stay at a hut or hostel. It's not a good idea to hike alone.
16. Snowman Trek, Bhutan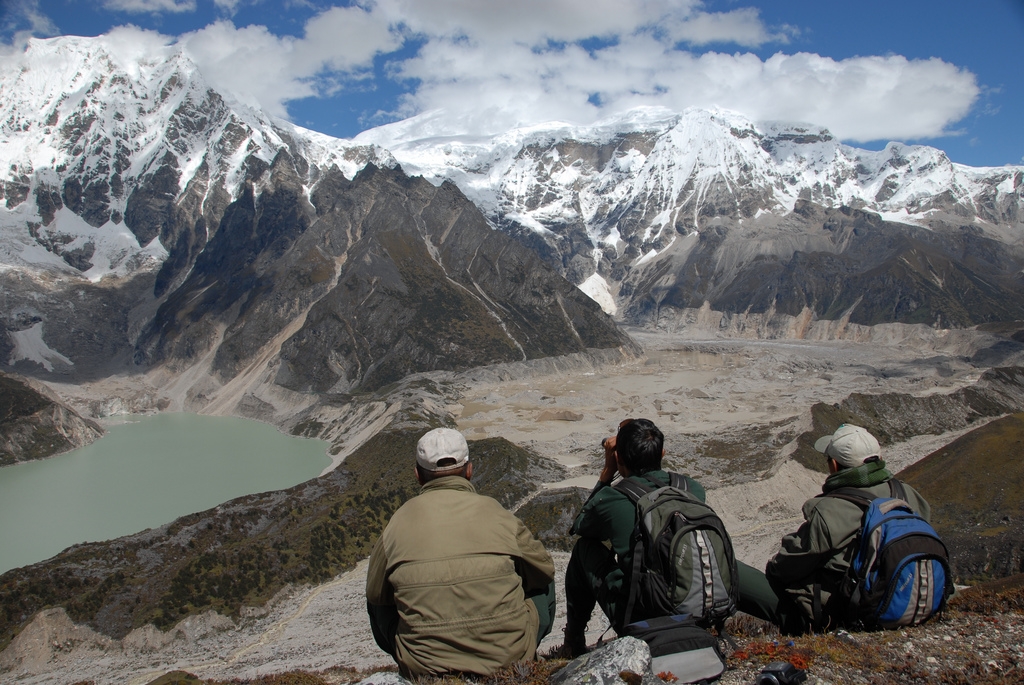 Best For: The hardest of hard cores
Distance: Over 200 miles, usually a 25-day trip. By law you must travel with a guided tour company in Bhutan.
The Snowman is quite simply the most difficult long walk on the planet. Though it covers just over 200 miles, much of the route is higher than the highest points in the continental United States, crossing 11 passes over 16,000 feet and topping out at 17,388 feet on Rinchen Zoe La Pass. At that elevation weather is unpredictable and altitude sickness a real concern. Barely half of the people who start the Snowman end up finishing. Plus, the trek is in Bhutan, a constitutional monarchy that carefully regulates tourists to keep the country timelessly unspoiled but tough to navigate and lacking many technological advances.
All those difficulties, however, add up to what simply may be the best hike in the world. Bhutan's strict tourist policy means you won't bump into many other travelers as you would on treks in Nepal. Instead, you'll feel like a modern Heinrich Harrer, a visitor to a Buddhist kingdom untouched by iPhones and traffic. The trek passes through places like Laya, home of the indigenous Layap people, and the village of Thanza at 13,700 feet, where guides exchange horses for yaks to tackle the even more difficult terrain ahead. Then there are the peaks themselves, more than 7,000-meter giants that reach above the clouds, such as Zogophu Gamp and Masang Gang. But change is coming to Bhutan-the nation is allowing more tourists in and slowly meeting the West, so go soon.
When to Go: The window of opportunity here is very small, with October and sometimes April being the only months to avoid the snow and rain that will close the high passes.
Shortcut: The trek around soaring 24,035-foot Jomolhari peak is a challenging weeklong adventure in the high Himalaya. The Druk Path takes five days and crosses the high range between the town of Paro, site of the country's international airport, and the capital city of Thimphu, which famously has no traffic lights.
Insider Tip: The government of Bhutan imposes a minimum tariff of $250 per day on foreign visitors to Bhutan. Though that includes things like accommodations, prepare to spend at least $8,000 for a Snowman trek. There is no budget or self-guided option. This is truly one of the most thrilling hikes.
source: National Geographic
Comments
comments